Zipstall not only the ULTIMATE Parking Search Tool, but we also want to
help you SAVE MONEY on all of your adventures. We are proud to be
partnered with Dorinku Osaka to give you a better parking experience
and help you save money!

Here's how:
With our Validations program you save on parking at PARTNER. Simply use Zipstall to search for parking at PARTNER and we will show you which parking option they are partnered with and what the discount is
PARTNER parking you will receive
100% discount
for parking at
Capital Center - Impark #312
LOCAL
DOLLARS
Through our Local Dollars program you can save on purchases at Dorinku Osaka. Simply collect Local Dollars by telling Zipstall the availability of stalls when you park and then we let you spin the wheel. The Local Dollars you win can be spent with our partners like Dorinku Osaka.
Dorinku Osaka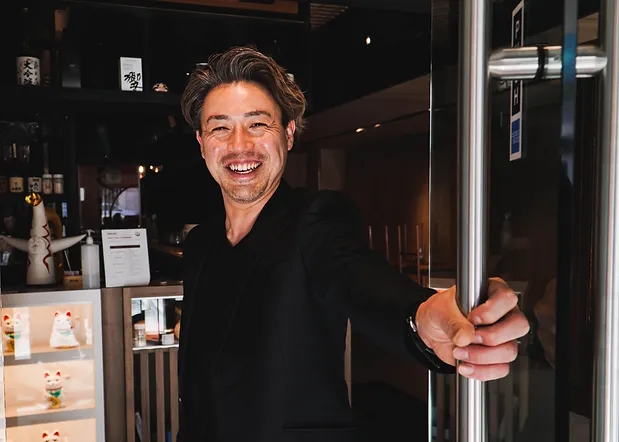 MEET TOSHIYUKI
"Irasshaimase!"

Dorinku Osaka is an Izakaya style restaurant found at 10328 Jasper Ave. When you walk in, you are transported to the streets of Osaka, complete with the decor, atmosphere, and fragrance of street food- style dishes.

"Honestly, I just like making people happy and seeing people smile," says Toshiyuki Iwai, the General Manager at Dorinku Osaka. Toshiyuki believes in delivering "Omotenashi" which is the Japanese tradition for delivering meaningful service from "the bottom of our hearts, honest, no hiding, no pretending," offering complete transparency to their guests.

The elements that Dorinku Osaka feature are: a backstreet bar with a focus on sake, Japanese whisky, and creative cocktails, side street with a kushiyaki stall and a ramen cart, and even an elegant sushi bar featuring fresh sashimi, oysters, and beautiful rolls. "We've combined all of these unique experiences and condensed them into one, all within a single establishment."

Signs, 3D printed food, vending machines, pachinko machines, and even temple roof tiles have been imported from Japan to fill the space with more than just good food and further give the experience that you are on a bustling street in Osaka.

"I love seeing the joy and reactions of someone enjoying food they didn't know existed half an hour prior, or with a name they can't pronounce," Toshiyuki continues, "our backgrounds don't matter when it comes to delicious food, it's enjoyable just the same."

Dorinku Osaka is meant for people from all walks of life, a go-to spot that provides a great and consistent dining experience that can always be depended on. Make sure you head to Dorinku Osaka and experience the wonders it has to offer.